Klayman To Investigate Threats to Truckers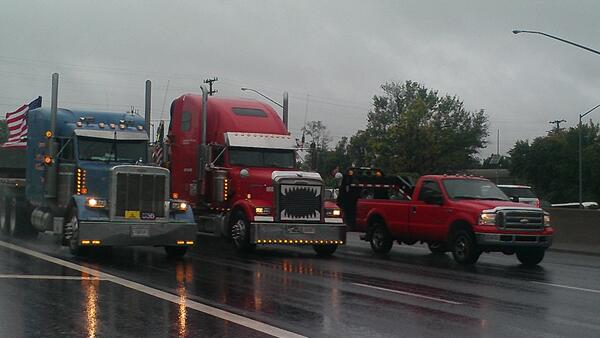 Larry Klayman is investigating the threats to the truckers in the constitutional protest of our government. Reports of government harassment, despite the efforts of the truckers to work with law enforcement on maintaining a legal protest, may have deterred many from participating.  Klayman set the date of November 19th for the next protest.
Recent regulations in trucking and hikes in the price of diesel had made it nearly impossible for many truckers to stay in business. Zeeda Andrews, organizer of the protest, appeared earlier this week on Greta Van Sustern's show on Fox News. In that interview, she stated that the removal of the President of the United States was the goal of the protest, but outlined areas where the administration was choking off the livelihood of those in the transportation industry.
Reports on Alex Jones and other media outlets popularized reports that the  National Guard had been sent out to shut the protest down. Pete Santelli's show showed that these reports were false. Nevertheless, the reports did deter many from participating in the event. It appears that some of the reports of National Guard units are being tied to the Freedom Conference, but it is unclear of this was the source of these reports or not. The reports cite unnamed insiders in the U.S. Department of Transportation and claim that the National Guard would close off the exits to prevents trucks from entering the Beltway area surrounding Washington, D.C.
Klayman also stated that plans were underway for a subsequent event on November 19th. Klayman emphasised that this was not a Republican event or a Democrat event, that the protest was grassroots based on both sides.  He explained that the corruption has transcends party lines, leaving people in both parties with shared grievances.
In the interview, Klayman credits Congressman Gohmert with allowing the veterans to visit the World War II Memorials.
Klayman is the head of  Judicial Watch, a group that has been  investigating and exposing the Obama Administration. Through his efforts using the Freedom of Information Act, Klayman has spearheaded significant efforts to expose various scandals of the Obama Administration. His most recent efforts have been aimed at voter integrity and Obama Care. Klayman has been very effective in exposing many other scandals such as Benghazi, Fast and Furious, Green Energy Scandals. He has also been an effective advocate of first and second amendment rights, as well as exposing the abuse of executive privilege and other excuses by the Obama Administration to deny Freedom of Information requests.