ObamaCare Exchange Websites Crash
With glee, Barack Obama's twitter account last night boasted that you simply could not stop ObamaCare. The exchanges would open and that the program would be a go and it could not be shut down.  Of course, Twitchy captured the tweet.
As it turns out, this tweet might have been meant as a boast, but it was really more prophesy. Jim Messina who runs @BarackObama on twitter is responsible for the message. He is right, sort of. ObamaCare can't be shut down. It has to open to be shut down.
The program never opened. It is clearly not prime time ready. Americans all around the United States were met with crashed websites, non-existent chat bots, and unmanned telephones.
The President could have saved himself a lot of embarrassment by extending the delay to the rest of America. Rather, his attempt to shove the program down the throats of Americans may have cost him the support of those who would otherwise be his biggest supporters.
This morning, MSNBC journalist Mara Schiavocampo tried to sign up for ObamaCare's exchanges. She captured the whole process on MSNBC.  One can presume that this was an attempt by MSNBC  to demonstrate how easy it was to sign up for a health care plan.   Apparently, the website and the enrollment process was not ready for prime time.  She went to the website, gave her personal details, and then was asked to verify her identity. That is when she got an error message.  After that, she decided to call the exchange.  After about 35 minutes, she finally gave up. Apparently, the "glitches" were worse than we thought.
Of course, this is the New York Exchange. Would one expect New York to have problems running exchanges?
The British company that set up the exchanges, Serco, has been under investigation for fraud. So, many in America were quite curious if the exchanges would be ready.
The opportunity was not missed by Republicans. Pete Sessions showed error messages on his tablet. Congressman Huelskamp showed how he couldn't get on to create an account on the exchange to comply with the mandate.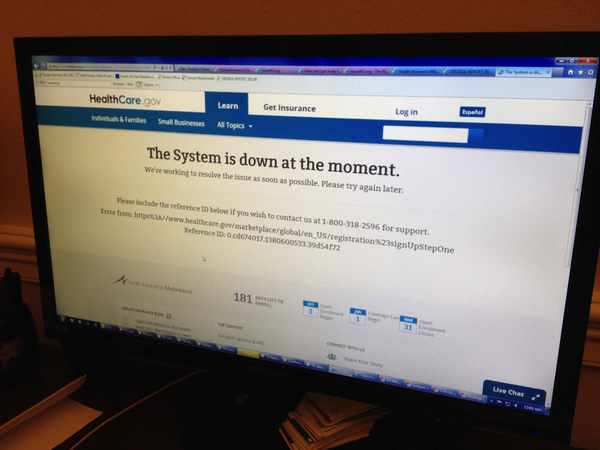 The problem was not limited to the East Coast. In California's exchange was off line. Apparently, they did not have their internet apparatus ready for opening day.  Given that the government has had over 2 years to put together the servers, web coding, and support line for opening day of this program, it suggests that this program might not be a good idea. It clearly isn't "prime time" ready.

Apparently, the blue state of Oregon apparently wasn't ready either.
It would seem that the sign up was not possible in several states and location. One repeated screen across the U.S. on the National Website was this one:

Of course, there is a chat feature to help guide you through the process, right? So, what happens when you attempt to use the chat feature?

It was no better in most states. This program was not ready. It should have been delayed. It has become apparent that the current debacle between the House and the President is more about the President's ego and less about the interests of the American People.
H/t Twitchy.